Products ・Business Introduction
Medical and Biotechnology Applications
Active primarily in the medical and biotechnology fields, Zeon Opto Bio Lab manufactures molded products made from high-performance resins developed by Zeon Corporation (ZEONEX® and ZEONOR®).
In 2017, we started a molding contract service for microfluidic chips, with our expertise in precision molded products used in the medical and biotechnology fields.
Zeon Opto Bio Lab technology supports state-of-the-art biotechnology.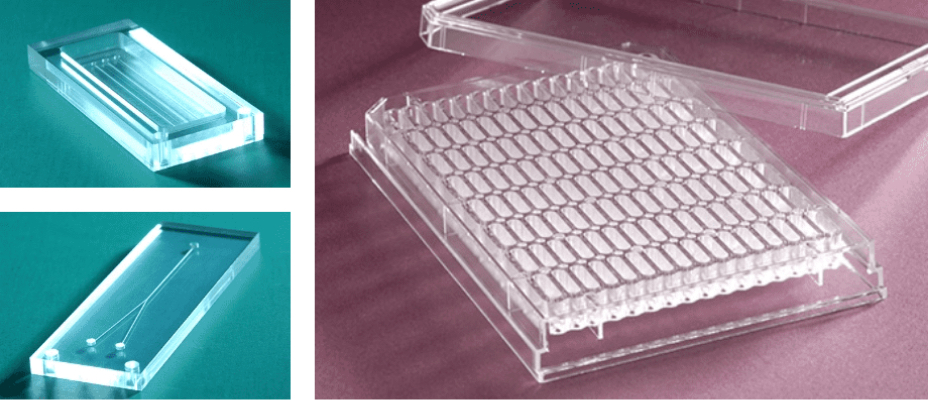 Contract Molding Service
Starting in 2017, we began providing a complete, one-stop service offering for our customers. Everything from molding, to cutting and joining, is possible from just a single microfluidic chip prototype, resulting in significant cost savings and rapid turn-around time.

Injection Molding
Injection molding is the process of injecting molten material into a mold, then allowing it to cool and solidify, to obtain a molded product.
We have 19 large and small molding machines.
Vacuum Deposition
Vacuum deposition is a method of forming a film by vaporizing raw materials in a vacuum.
We have 2 vacuum deposition machines.

Class 1,000 to 10,000 Level Cleanroom
A class 10,000 cleanroom ensures that there are less than 10,000 0.5μm particles per 30cm2 of air. And given the size of cedar pollen is 30 ~ 40μm, 0.5μm is incredibly small.
Clean clothes and an air shower prior to entering the cleanroom are required to prevent the intrusion of dust or other particles from contaminating the space.
Evaluation Technology
Equipment such as digital microscopes are used to check for surface scratches and other foreign matter. Spectrophotometers are used for measuring transmittance, and 3D shape measuring devices and laser microscopes are used for measuring surface shapes.